Surulere Local Govt Chairman Ajide Preps Other Chairmen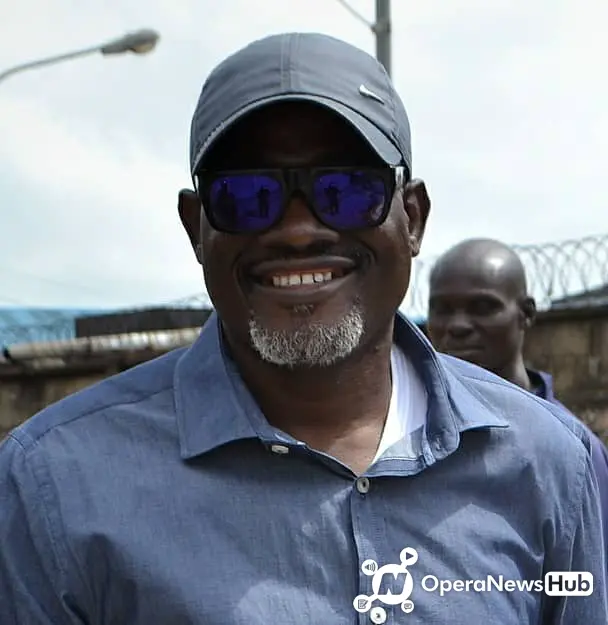 The Executive Chairman of Surulere Local Government, Hon. Tajudeen Ajide has challenged his contemporaries, especially those of Coker/ Aguda and Itire/ Ikate Local Council Development Areas, Hon. Omobolanle Akinyenmi –Obe and Hon. (Dr.) Ahmed Olarewanju Apatira to improve in their performance and service delivery to the people of their communities.
This came on the heels of a humongous and impressive performance ascribed to Hon. Ajide, which has earned him a moniker, "Mr. Road of Surulere".
It is not doubt that Hon. Ajide has constructed well over 40 roads since he got on the saddle as the executive chairman in 2017. It is on this basis that he has continually attracted myriads of awards across the country for his spotless and humongous performance.
Recalled that on celebrating its 45th anniversary and induction of new members, the popular socio-political club, Eko Club, based in Surulere, Lagos State honoured distinguished personalities, who have contributed to the development of Eko Club and also excelled in their areas of callings.
At the celebration held on Sunday, 10th of November, 2019, Hon. Tajudeen Ajide, the Chairman of Surulere Local Government, also a member, was honoured with the second highest title of the Club – COMMANDER HOUSE OF BLESSING (CHB) for his immense contribution, especially for rehabilitation of Eko club Road and many other roads across the Local Government. The title is an exclusive reserve of the top members of the club.
Challenged by Hon. Ajide's humongous performance, the chairman of Coker/ Aguda LCDA, Hon. Obe immediately got to work on road infrastructure.
In less than two months, Hon. Obe has constructed 10 roads and 4 culverts. There are listed as follows:
1. JadesolaOshodi Street.
2. IdahosaOjoOsagie Street
3. Victor Olaiya Street
4. Aiyetoro Primary School road
5. Coker Compound
6. Ade Omo Olubiyi Street
7. Osho Street
8. AlhajiAdebowale Street
9. Ewhubare Street
10. WoleMadariola Street
11. Agbonyin Culvert
12. Ewhubare Culvert
13. Ewhubare Culvert by Akinsulire Street
14. Aiyetoro Culvert after Ade Omo Olubiyi Junction Culvert
Altogether, 10 roads and 4 culverts have been constructed by Obe's -led administration. The construction began on the 3rd week of November 2019 and completed on the 1st week of January 2020.
As you know, governance is not about road construction alone; therefore, the government of Obe will also be involved in rehabilitating Primary schools, purchasing of school benches to make learning convenient for the pupils, and other progressive projects will be initiated in 2020.
Hon. Obe has also invested on Social welfare packages for the residents of the council.
Next on the line is Hon. (Dr.) Ahmed OlarewanjuApatira, the executive chairman of Itire/ Ikate LCDA.
During the electioneering campaigns, Hon. Apatira has reiterated his commitment at ensuringthat qualitative education reigns amongst youths of Itire-IkateLCDA. He has fulfilled his promise by distributing School Bags and 250 Free UTME/JAMB Forms to Public Schools students in Itire-Ikate LCDA and also Indigent youths aspiring to secure admission into Universities, Polytechnics and Technical Colleges for year 2020 at the Council Secretariat, Airways, Surulere, Lagos on Tuesday, 11th February, 2020.
While delivering his epoch – making speech during the presentation ceremony, Hon. Apatira reassured the people of Itire-Ikate that his administration is poised to empowering the youths to achieve their set goals and aspirations.
"Education, as we all know, is the key to success, and for any student to excel in their studies, they must be provided with an enabling environment".
In that sense, the students must be equipped with educational materials such as school bags, textbooks, pen and other learning aids. These items will assist them to grasp quickly and will speed up their learning in their various schools, enthused Apatira.
"To ensure our beneficiaries excel in the exams in flying colors, we have Organized Free Evening Coaching Classes to prepare them for the Tasks ahead", said The Chairman.
Dr. Apatira also disclosed that Arrangements are in place for provision of Bursary to the beneficiaries after they might have gained admission to the higher institution of their choice.
The benefitting schools include Ijeshatedo Nursery and Primary School, Akanji Nursery and Primary School, Aguntasholo Nursery and Primary School, Animashaun Nursery and Primary School, Erinosho Nursery and Primary School, Odo-olowu Nursery and Primary School, Sijuade Nursery and Primary School, Ijeshatedo Secondary School and Sanya Grammar School, respectively