"I am Under Spiritual Attack" – Super Eagles Footballer, Ugochukwu John Ogu
Nigerian international footballer, Ugochukwu John Ogu has appealed to Nigerians to say a prayer for him as he shared how he was betrayed by people he held close to his heart at the initial stages of his music career.
John Ogu took to his Twitter and disclosed that a lot of people broke his trust after failing him and narrating his ordeal in a series of tweet, he wrote;
"I know a lot of people are like What's up with JOHN OGU? Is he done playing? I know a lot of y'all are like chaii and I love that guy so much. Guy is so passionate for the Super Eagles and so on. Truth is a lot of people I trusted failed me in my career moving forward.
I remembered I trusted someone back here in Nigeria after I signed for Almeria in la liga then but because of their selfish interest for me to play in Belgium, deal crashed but we moved!!
Went to Portugal ,and then I was without a top club then ended up in Israel where I became KING with the help of my brother Tony Nwakaeme on the field where we won titles together.
I'm so proud to see him buzzing hard in Turkey and flourishing. Stayed out without a team for months before a friend helped me to get a deal in Saudi .
Moved there and started a new life then came CORONA!! Na wa but see I always believe this life,Na God get final say for this life . I'm grateful to God for all he has done for me".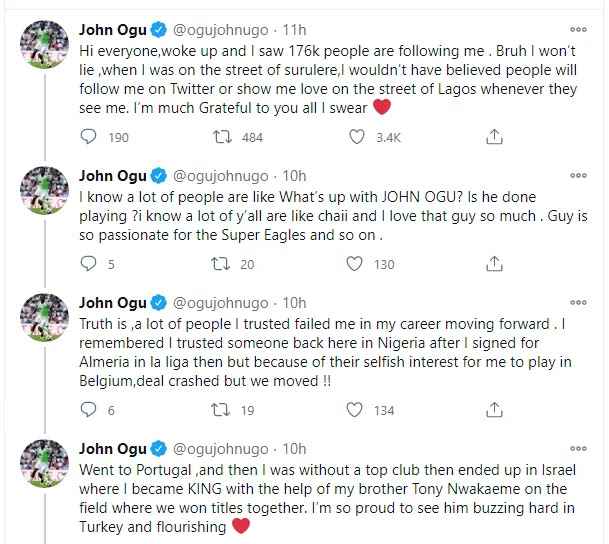 A Weekend Full of Movies On GOtv Max!
GOtv Customers to Watch Rome Derby, Man City vs Crystal Palace LIVE This Weekend

There are two standout matches from this weekend's Serie A action, starting with a Friday night clash between Lazio and Roma at 8:45pm on SS Football  and SS Select 1 (Channel 31 & 33). The 'Derby della Capitale' or Rome derby is one of the most fervent rivalries in all of Italian football. It has been almost a full year since their last Serie A meeting (a 1-1 draw on 26 January 2020) and fans of both the Giallorossi and Le Aquile will be itching to watch this battle.
On Saturday, Bologna vs Hellas Verona will air live at 3pm, while Torino vs Spezia will be showing at 6pm and Sampdoria vs Udinese will air by 8:45pm. All matches will air live on SS Football and SS Select 1 (Channel 31 & 33).
The other key clash of the round takes place on Sunday night and sees Internazionale host Juventus at San Siro for a game which could be key in the race for the Scudetto. The Bianconeri are unbeaten in the last seven editions of the 'Derby d'Italia', but manager, Andrea Pirlo is taking nothing for granted against the Nerazzurri. This will air live at 8:45pm on SS Football and SS Select 1 (Channel 31 & 33).
The round of games in Italy also features Napoli hosting Fiorentina, airing live on Sunday at 12:30pm on SS Football and SS Select 1 (Channel 31 & 33). Atalanta will be welcoming Genoa to Bergamo at 6pm on SS Football and SS Select 1 (Channel 31 & 33), and a closing clash which sees Milan visit the Sardegna Arena on Monday night at 8:45pm for a battle with Cagliari showing live on SS Football and SS Select 1 (Channel 31 & 33).
For European Premier League, Wolves will face West Bromwich on Saturday at 1:30pm and ManCity will clash with Crystal Palace on Sunday at 8:15pm both on SS Football (channel 31).
Football fans can subscribe to GOtv Max for a discounted price of N2,999! Instead of N3,600 to watch these games and other matches in the LaLiga, Serie A and the Premier League.
Also, visit www.gotvafrica.com and download the MyGOtv app from the iOS and Android store to upgrade, reconnect or select the Auto-Renewal option to stay connected to quality football entertainment without interruptions and for other self-service options.
MultiChoice Brings Back Special Step Up Offer on DStv, Discount on GOtv Max this January

MultiChoice is delighted to bring back the hugely popular Step Up campaign offer to its DStv and GOtv customers this January.
The Step Up campaign offer gives all active and disconnected DStv Compact, Confam and Yanga customers the opportunity to pay for a package a step above their current package and get a boost to view programming on the next higher package. While customers on GOtv Jolli and Jinja can upgrade to enjoy GOtv Max for less at a special discount of N2,999 instead of N3,600 per month. All the upgrades are scheduled to happen within 48 hours and will be available from Thursday, 14 January till Wednesday, 31 March 2021.
"Through the Step Up and Max for Less campaign offers, we are giving our DStv and GOtv customers something to get excited about this January," said Martin Mabutho, Chief Customer Officer, MultiChoice Nigeria.
Mabutho further said: "We started this special offer back in 2019 as a way of giving customers on the lower packages a chance to enjoy quality video entertainment on our higher DStv and GOtv packages for less. We are pleased with the popularity and acceptance of the offer, so we are making it available once more to both new and existing customers. It promises to be even more exciting as customers who take advantage of this offer will be exposed to even more great entertainment starting this January."
DStv customers on the Yanga package can pay N4,615 for Confam package and then get a boost to view programmes on the next higher package, Compact; while customers on the Confam package can pay N7,900 for Compact and instead view Compact Plus package programming. Likewise, Compact customers only pay N12,400 for Compact Plus package and in turn get Premium package worth N18,400 per month.
January is booked with different exciting programming such as, brand new seasons of exciting shows and drama series on Africa Magic starting with Date My Family S2 premiere on Sunday, 17th January at 6pm on AM Showcase; My Siblings & I S3 on Monday, 18th January at 6:30pm on AM Urban and Unmarried S2 on Wednesday, 20th January at 9pm on AM Showcase.
Launch of the M-Net Movies 007 James Bond Pop-Up Channel 111 on Friday, 22nd January to Monday, 31st January 2021 on DStv Premium, Compact Plus and Compact.
The 2020/21 Football Season continues with the best leagues and cup tournaments on SuperSport. Watch Liverpool vs Manchester United on Sunday 17th January at 5:30pm and Manchester United vs Liverpool on Saturday, 23rd January at 4pm on SuperSport Premier League. Emirates FA Cup 4th round match between Leicester City vs Chelsea on Tuesday, 19th January at 9:15pm on SuperSport Premier League. In Serie A, Sunday, 17th January at 8:45pm is Inter Milan vs Juventus on SuperSport Variety 3 on DStv SuperSport Select 1 on GOtv while in La Liga, Real Sociedad vs Real Betis will air on Saturday, 23rd January at 6:30pm and Athletico Madrid vs Valencia on Sunday, 24th January at 9pm on SuperSport La Liga.
Exclusive GOtv Max content including all La Liga, Serie A, twice as more Premier League and UEFA Champions League matches, M-Net Movies 4, BET, Cartoon Network, StarLife, ROK 2, CBS Reality and more.
The Step Up and Max for Less offer is open to both active and disconnected DStv Yanga, Confam and Compact customers and GOtv Jolli and Jinja customers. For more information on this limited time offer as well as other products and services, please visit: www.dstvafrica.com or www.gotvafrica.com